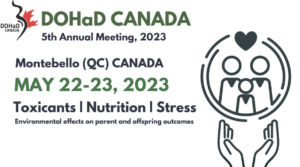 Early Bird Deadline: Monday, April 24th at 11:59pm EST.
The program will focus on environmental effects on parents and offspring, with a particular focus on environmental toxicants, diet/nutrition, and early life environment.
The program will include Keynote address by Amanda Kentner (Director of the ENRICHED Neurodevelopmental Brain & Behavior Laboratory at the Massachusetts College of Pharmacy and Health Sciences).
The day will also feature a "DOHaD Advocacy in Canada" workshop, a joint-poster session with CNPRM, and a 3-minute 'slam your science' event for trainee presentations.
The registration portal (www.dohad.ca) is OPEN.
For more information please contact the 2023 DOHaD Canada conference co-chairs, Dr. Tara Perrot (tara.perrot@dal.ca) or Dr. Jennifer Khoury (jennifer.khoury@msvu.ca).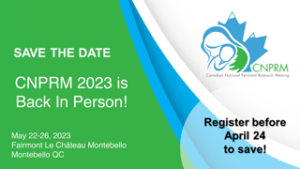 Join us May 23-26, 2023 in Montebello to Celebrate the

10th Annual Canadian National Perinatal Research Meeting!
Important Dates
Call for Abstracts Closes: February 8, 2023
Early Bird Registration Early Deadline: April 24, 2023 - Register HERE
CNPRM 2023 – Continuing the Science and Growth!
The 2023 program promises to be a unique mix of interdisciplinary collaboration, which includes renowned keynote speakers, oral and poster sessions, workshop and ECR Invited Lectures, all dedicated to perinatal biology and clinical science!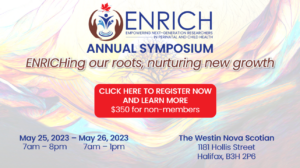 ENRICH Annual Symposium
Welcome to our inaugural ENRICH Annual Symposium: ENRICHing our roots, nurturing new growth. This event will bring our platform together, plus the IMPaCT, CHEER and MICYRN networks. Here you will have the opportunity to learn and network with peers and mentors across all sectors and disciplines. Join us for 3 days of team building, career building, and personal wellness and effectiveness.
See you all in Halifax!
Equitable and Suitable Health For All
Toronto | June 25 - 30, 2023
The third World Non-Communicable Diseases Congress (WNCD 2023) is scheduled to take place from June 25 to 30, 2023 at the Metro Toronto Convention Centre in Toronto, Canada.
WNCD 2023 will gather international experts to advance knowledge and expertise on non-communicable diseases (NCD), to assess their impact globally and to develop public health measures and recommendations to mitigate and contain them.
Keynote Speakers
Kent Thornburg, Ph.D., Interim Director of the OHSU Knight
Cardiovascular Institute and Director of both the Center for
Developmental Health and the Moore Institute for Nutrition &
Wellness.
Paolo Rinaudo, M.D., Ph.D., Professor, OB/Gyn, Reproductive
Sciences, School of Medicine, University of California, San
Francisco.

Dates: Sunday-Tuesday, Aug. 21-23, 2022

Location: Portland, OR

Registration: Register for the course (www.ohsu.edu/dohadsummercourse)
Cost: $150

Questions: Email rogerki@ohsu.edu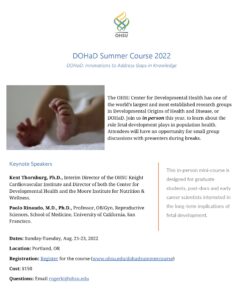 2022 DOHaD World Congress meeting
Vancouver, British Columbia
August 27-31, 2022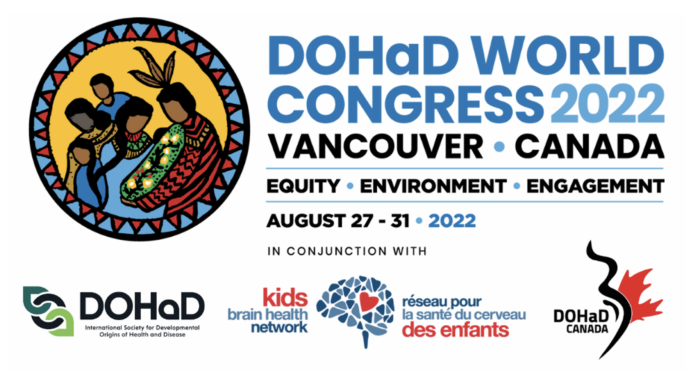 OVER 20 GUEST SPEAKERS!
Dates: October 24 to October 27, 2022

Location: Buxted Park, East Sussex, UK

Click here for the website and more information!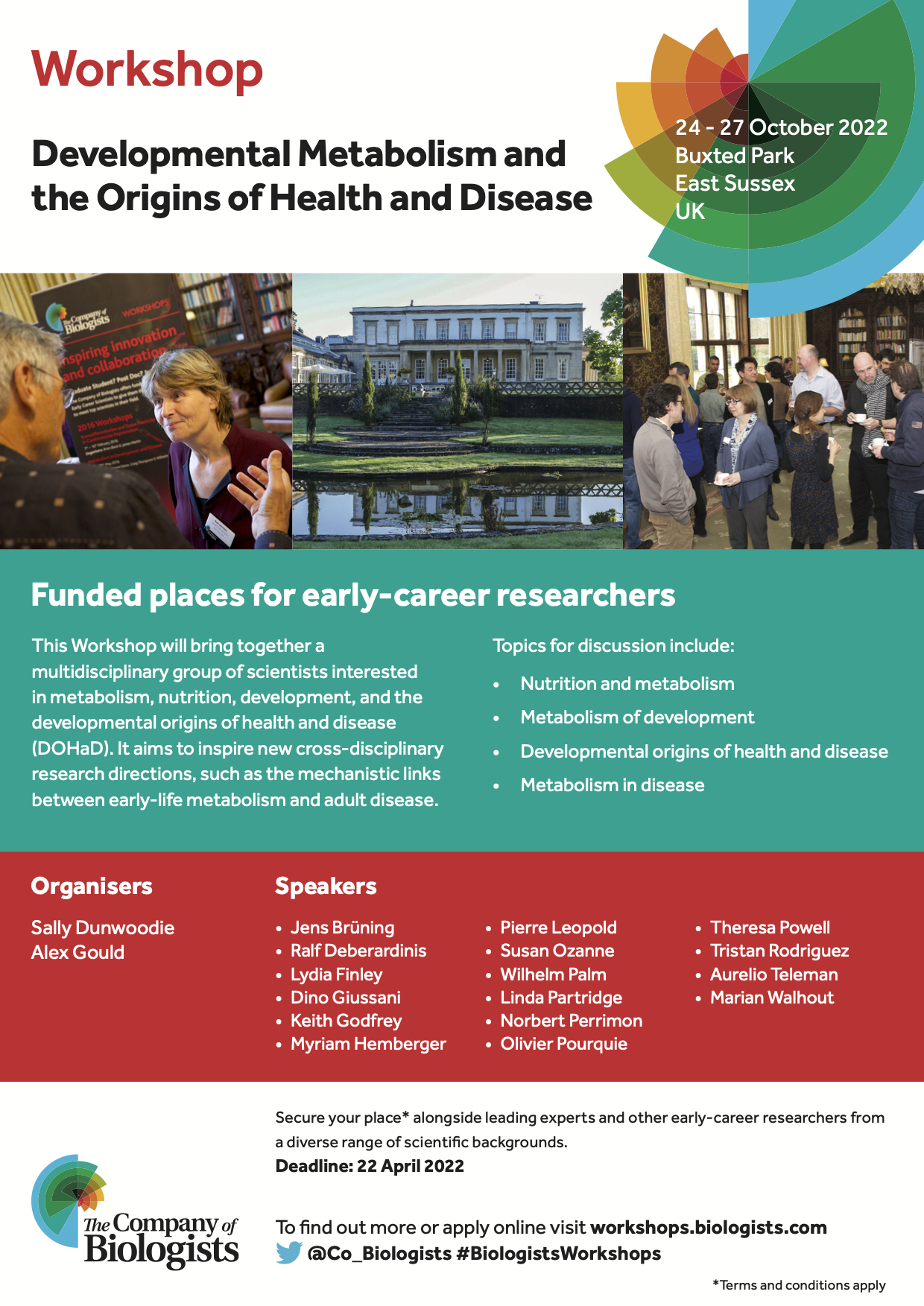 The 2022 International Prenatal Programing & Toxicity (PPTOX) meeting , the seventh such international gathering, will be held virtually on January 10-13th, 2022. PPTOX-VII will include a mixture of invited front-line presentations, video sessions and live discussions with prominent colleagues, contributed oral presentations and posters, a Trainee Forum and targeted discussions. This 4-day virtual meeting will consist of short 5 hours days to permit real time interactions across the globe. We hope that this PPTOX conference will attract toxicologists, epidemiologists, pediatricians, endocrinologists, basic biologists and other specialists, educators, and regulators with an interest in environmental health, developmental toxicity, and human disease etiologies.
Click Here to Submit Abstracts
Deadline to submit: November 29th, 2021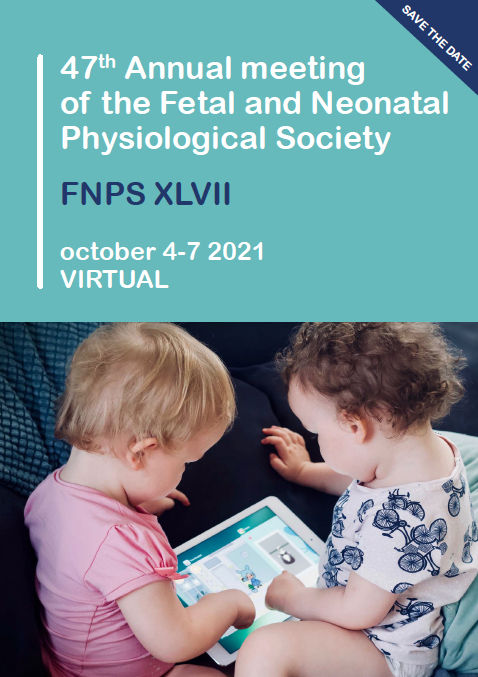 Canadian Academy of Health Sciences (CAHS)

Virtual Forum
September 28-29, 2021
Healthy Start, Life-Long Impact: Eradicating Non-Communicable Disease
DOHaD Canada is supporting these 16 Trainees to attend the CAHS meeting:
| | | |
| --- | --- | --- |
| Christian | Bellisimo | McMaster University |
| Jesica Romina | Canizo | CRCHUM |
| Gilberto | Duran Bishop | University of Montreal |
| Tamara | Gutierrez | University of Alberta |
| Maryam | Kebbe | Pennington Biomedical Research Center |
| Kate | Kennedy | McMaster University |
| Maria | Medeleanu | University of Toronto |
| Kozeta | Miliku | McMaster University |
| Shelby | Oke | University of Western Ontario |
| Oguz | Ozgoren | BC Children's Hospital |
| Audrey | St-Laurent | Laval University |
| Sukhpreet | Tamana | Simon Fraser University |
| Marcel | van de Wouw | University of Calgary |
| Katherine | Vandal | Centre de Recherche du CHUM |
| Marina | Whilte | Carleton University |
| Mahdieh | Yousef | University of Alberta |
---
DOHaD Summer Course


August 5 and 7, 2021
The Center for Developmental Health is hosting a virtual mini course on the Developmental Origins of Health and Disease (DOHaD). OHSU has one of the world's largest and most established DOHaD research groups and is dedicated to ensuring the next generation of scientists and health care providers have a robust understanding of the role development plays in long-term health.
Keynote speakers
David Weinberg, Ph.D., Project Lead, Human Placenta Project; Program Officer, Pregnancy and Perinatology Branch, Eunice Kennedy Shriver National Institute of Child Health and Human Development
Susan Ozanne, Ph.D., Professor of Developmental Endocrinology, Cambridge Universit