Longitudinal Studies
20 – 22 April 2020Wellcome Genome Campus, UK
https://coursesandconferences.wellcomegenomecampus.org/our-events/longitudinal-studies-2020/
Longitudinal studies are ideal tools for studying many things including age-related functional changes, and the development and progression of chronic diseases. This conference will bring together scientists working on studies in childhood, adult and late life to identify novel biomarkers of functional decline and development of disease susceptibility, and to understand the lifetime drivers and underlying pathways of these processes.
The programme will showcase new findings, methods and technologies, and translational opportunities within and across cohort studies in high, middle and low income countries. This year's meeting will explore approaches to monitor trends in population health and ageing, focussing on apparent peak health, including gender differences, as well as frailty.
The meeting is aimed at population scientists in epidemiology, biomedicine and the social sciences, involved in longitudinal research, longitudinal studies, genome biology, dynamic measures of physiology and other relevant fields.
---


DOHaD Canada is delighted to announce that the International Society for Developmental Origins of Health and Disease has awarded the 2021 World Congress on Developmental Origins of Health and Disease to Canada. The meeting will take place in Vancouver 15-19th October, 2021, with satellite venues in Quebec and Banff. The bid was led by Drs Janice Bailey and John Challis with the support of DOHaD Canada and many colleagues from across Canada. We would like to thank all of those involved, and particularly Drs Bailey and Challis. DOHaD 2021 will allow us to highlight our research successes in Canada, and DOHaD Canada looks forward to working with the organizing committee in the development of a truly outstanding World Congress.
To view the submission please follow the links below: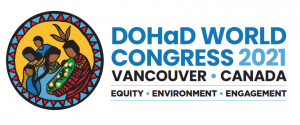 Past Events
11th DOHaD World Congress 
October 20-23, 2019,  Melbourne, Australia
Congress theme: Investing in a Healthy Future for All: Research, Education, Policy.
Women & their Microbes
A healthy woman, a healthy baby, a healthy generation.
March 6-7th, 2019
Hamilton, Ontario, Canada
Developmental Origins of Health and Disease (DOHaD): Early Life Adversity and Later Life Reversibility 
Preconference at the American Psychosomatic Society Annual Meeting
March 6, 2019, Vancouver, Canada
The 3rd Scientific Meeting of the Canadian DOHaD Society
February 11-12, 2019
Fairmont Tremblant – Mont-Tremblant, Quebéc, Canada
64th annual meeting of the Canadian Fertility and Andrology Society (CFAS)
September 13-15, 2018, Le Westin Montreal
https://cfas.ca/
PPTOX conference 
May 27-30, 2018, Torshavn, Faroe Islands
Toronto, Ontario, Canada, July 15-18, 2018
CNPRM 2018  February 14th – 17th
5th Annual Canadian National Perinatal Research Meeting in 2018, Banff, Alberta
2nd Annual Canadian DOHaD Society meeting
February 14, 2018, Banff, Alberta
10th World Congress on Developmental Origins of Health and Disease
October, 15-18th 2017, Rotterdam, The Netherlands, www.dohad2017.org
US-DOHaD 2017  – The 2nd annual meeting: September 25-27, 2017  Detroit, Michigan USA
Belle Isle
Developmental Origins of Metabolic Syndrome
Symposium exploring molecular, cellular, and translational aspects of developmental origins of metabolic syndrome.  October 9, 2017, Ann Arbor, MI
45th Annual Southern Ontario Reproductive Biology Meeting (SORB) Meeting
May 12, 2017, University Community Centre, Western university
Inaugural Meeting of the Canadian DOHaD Society
February 14, 2017; Fairmont Chateau Montebello – Montebello, Québec
PPTOX V  – 5th Conference on Prenatal Programming and Toxicity (pptox)
November 13-16, 2016; Kita-Kyushu, Japan, http://pptoxv.com/.
DOHaD-CLAP symposia at the Latin American Congress of Nutrition
November 8-11; Ponta Cana, Dominican Republic
Second Congress of the Ibero-American chapter
November 2-4, 2016; City Sao Luis de Maranhao, Brazil
E-mail: marcuspaes@ufma.br, https://dohadsoc.org/associated-societies/ibero-american/
Perinatal Research Society
Annual Meeting
September 23-25, 2016 Eaglewood Resort & Spa, Itasca, Illinois
https://http://perinatalresearchsociety.org/wordpress/meeting-program-2016-2/#
International Symposium on the Fetal Brain
September 15-16, 2016; Washington, DC USA
http://www.cvent.com/events/fetal-brain-conference/event-summary-43642a63631c46f79ce630a219f5b7e8.aspx
Physiology 2016
American Physiological Society and The Physiological Society
29 – 31 July 2016; Convention Centre Dublin, Ireland
https://http://www.physiology2016.org/
The Aspen/Snowmass perinatal Biology Conference
Snowmass, Colorado; August 27-30, 2016
https://www.asas.org/meetings/perinatal/home
NIH Transgenerational Workshop April 21-22, 2016
Transgenerational Inheritance – State of the Science
Developmental Origins of Health and Disease, 9th World Congress 2015
Cape Town South Africa; 8-11 November 2015
http://www.dohad2015.org
Canadian National Perinatal Research Meeting
February 10th to February 13th, 2016; Banff, Alberta
http://www.cnprm.org/