Position opening in the Mentorship Committee of the Empowering Next-generation Researcher In perinatal and Child Health (ENRICH) team. This position is looking for perinatal and child health researchers with experience in mentorship. Please find more information here.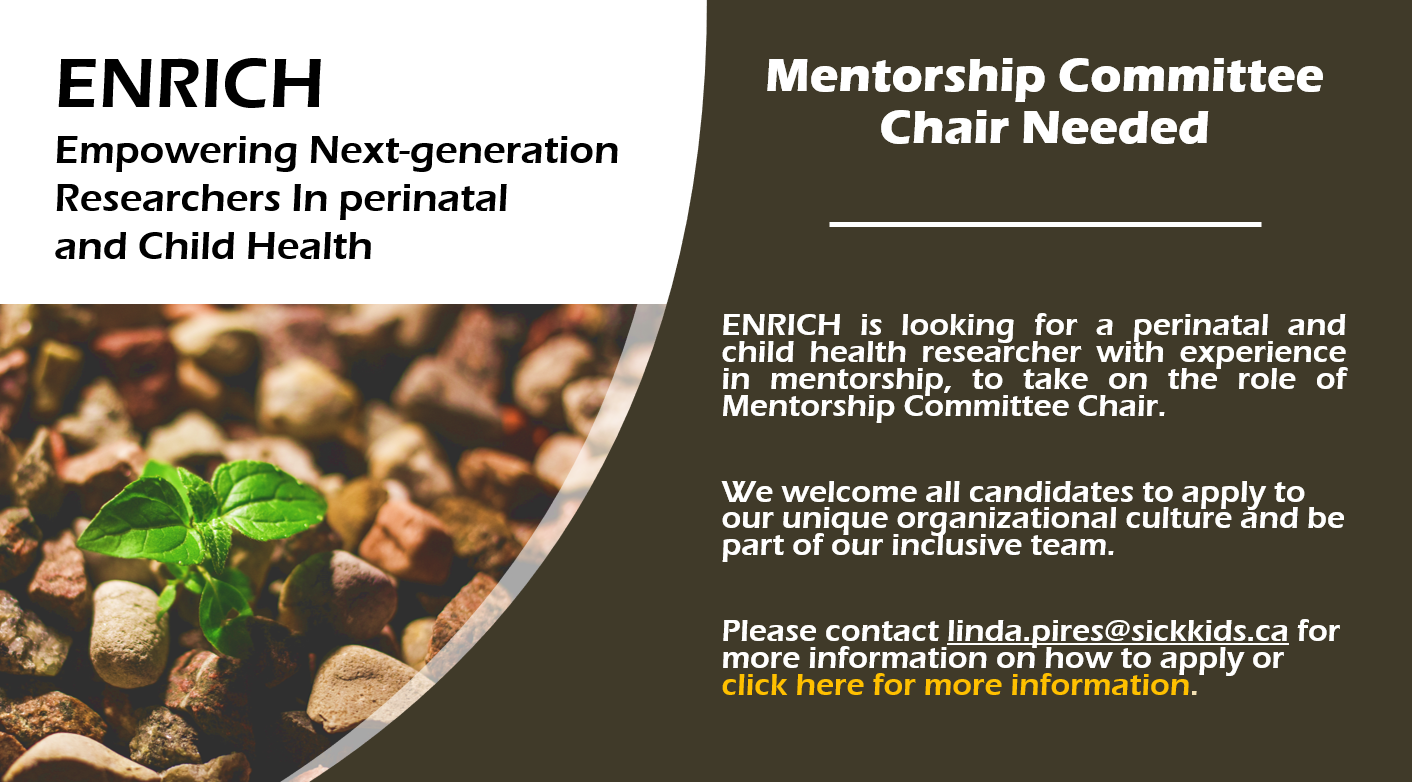 Posted: May 2022


Position opening in the University of Washington Maternal-Fetal Medicine Division as the Director of MFM Research. This is a full time faculty position at the Associate Professor or Full Professor without tenure level. We are seeking a mid to senior physician or physician-scientist with a strong record of publications, mentorship and grant funding experience to advance our academic mission. This position has an anticipated start date of July 1, 2022. A job description is attached and information about applying can be found in interfolio. Please find Position Description here.
Posted: Jan 2022


Postdoctoral Scholar: Human Social and Population Epigenetics - Centre of Molecular Medicine and Therapeutics, Department of Medical Genetics, University of British Columbia (UBC).
The Kobor Lab is seeking a highly motivated and ambitious recent PhD graduate to work on various projects related to understanding the causes and consequences of variation in epigenetic marks across human populations. This is an ideal position for applicants who wish to develop the skills required to launch an independent research programme.
Please send a CV and cover letter to Dr. Kobor: msk@bcchr.ca
Research Technician: Statistical and Bioinformatics Approaches to Human Epigenetics, Centre of Molecular Medicine and Therapeutics, Department of Medical Genetics, University of British Columbia (UBC).
The Kobor Lab is seeking a highly motivated Research Technician. The successful applicant will perform statistical analyses of high-throughput epigenomics and genotyping data to facilitate the interpretation of associations between molecular data with environment, stress and disease. The position will provide opportunities to lead projects toward publication and attend national and international conferences.
Please send a CV and cover letter to Dr. Kobor: msk@bcchr.ca


A Postdoctoral Fellow position is available immediately in the laboratory of Dr. Sandra Davidge, at the University of Alberta (Edmonton, Canada). The focus of the Davidge laboratory is to understand the mechanisms of cardiovascular dysfunction due to complicated pregnancies. A variety of pre-clinical models, using both in vivo and in vitro experimental approaches, are used to study endothelial vascular function. Prior experience in using animal models in reproductive sciences and/or vascular biology is desired. The laboratory has three complementary programs that include: the investigation of the causes and consequences of preeclampsia, determining the consequences of maternal aging on pregnancy outcomes, and addressing the mechanisms of cardiovascular pathophysiology in offspring born from complicated pregnancies [a field termed the Developmental Origins of Health and Disease (DOHaD)].
 Applicants will be required to have a PhD degree in physiology, or equivalent qualification. The successful applicant will be expected to participate in all aspects of their research projects, including experimental design, data collection, data analysis, preparation of graphs and figures, and preparation of manuscripts. Strong written and oral communication skills are highly desired. Applicants are expected to be motivated and self-driven and should work well both independently and as part of a team.
---
University College London - Institute for Women's Health, Maternal & Fetal Medicine
Duties and Responsibilities: The appointment is as a Non-Clinical Lecturer to work in the Prenatal Cell and Gene Therapy Group and the Centre for Prenatal Therapy in the Research Department of Maternal and Fetal Medicine at the Institute for Women's Health at University College London. The postholder will be expected to develop their own research programme in fetal physiology and prenatal therapy within the group and will be encouraged to develop collaborative links where relevant with other Institutes within the Faculty of Population Health Sciences and other Faculties within SLMS. This is a open ended UCL Grade 8 post, which is 100% HEFCE funded.
Key Requirements: The postholder should have a background in in a relevant area related to fetal and placental physiology, fetal diagnosis and therapy or maternal health.  He/she will be expected to perform research of the highest calibre and to apply for a higher research training fellowship. He/she will need to have a broad range of laboratory skills and have experience of developing hypotheses and protocols and analysing experiments for evidence of efficacy, safety and mechanism of action and data interpretation.  Experience of writing and obtaining grant application funding would be desirable. He/she will be required to teach on the IfWH departmental teaching programme of MBBS, MSc and Intercalated BSc courses and supervise iBSc, MSc, MRes and doctoral students' research projects.  They will be required to contribute to the development of new modules and training in teaching methods will be given. The postholder is expected to hold a PhD in a subject relevant to fetal and placental physiology, prenatal diagnosis and therapy or pregnancy.  A postgraduate certificate of learning and teaching in Higher Education, the Arena qualification of the Higher Education Academy or equivalent is desirable.  Peer reviewed publications as first or last author in internationally peer reviewed specialist biomedical journals is essential.
---
Postdoctoral Joint Position in Developmental Psychology at McGill University, Montreal, QC and Western University, London, ON
Start date: Immediately.
McGill University's newly formed Developmental Research in Environmental Adversity, Biological Susceptibility and Gender (DREAM-BIG) research group (http://dreambigresearch.com/) invites applications for a two-year postdoctoral position on a research project funded by the Healthy Brains for Healthy Lives Research Initiative under the direction of Dr. Ashley Wazana, Associate Professor at the Department of Psychiatry at McGill and Co-Director of the Child Day Hospital Program at the Jewish General Hospital and Dr. J. Bruce Morton, Professor at the Department of Psychology and Director of the Cognitive Development and Neuroimaging Lab at the University of Western Ontario.
Job description: The postdoctoral fellow will lead analysis on the gender-specific prenatal programming of ADHD and its underlying neuro-cognitive deficits and brain-based anomalies in a large international research collaboration that includes 5 Canadian and international birth cohorts (U.K., Netherlands, Singapore). It is hence a unique opportunity to work with large-scale, complex datasets and be exposed to interdisciplinary research including neuroimaging, genomics, and behavioral and clinical data across the lifespan. The postdoc will have a number of roles including but not limited to the coordination of research activities between the collaborating sites at all levels, development of research protocols, acquisition of datasets, analyses, publication, presentations and development of longer-term funding.
Since the analyses of behavioral data will take place at McGill University/Jewish General Hospital, while the analysis of neuroimaging data at Western University, the position involves paid travel between the two locations as well as some travel to the University of British Columbia, and possibly the sites of the imaging datasets (Bristol, Rotterdam and Singapore).  Details to be clarified.
Qualifications: The successful applicants will hold a doctoral degree in developmental or clinical psychology, epidemiology, neuroscience or a related degree in social and behavioral or health sciences. The applicant should demonstrate great organizational skills and familiarity in working with multiple platforms and modalities of data. Additionally, the candidate should also be flexible to travel to the various sites, especially the collaborating partners in Canada (UBC and UWO). Background in any of the following areas will be an asset: prenatal development, psychiatric genetics, neuroimaging, ADHD and/or executive functions.
To Apply: Please send a cover letter outlining your relevant training and prospective career goals, CV, research statement, up to three representative publications and contact information for three references to Ashley.Wazana@mcgill.ca or Eszter.Szekely@mail.mcgill.ca. For more information, please contact Dr. Wazana or Dr. Szekely by email. 
Start date: Immediately.
---

Post-Doctoral Position Available

Joint appointment at The University of Cambridge & The University of Manchester


Jan 2019 – Jan 2022
Maladaptive Cardiac Remodelling in Adult Offspring from Hypoxic Pregnancies: Role of Cellular Calcium Homeostasis

Ideal Candidate
Applicants must have a PhD in cardiac biology or a discipline of physiology. The successful applicant will have relevant extensive experience in the coordination of projects with small animals models, such as rats, and the assessment of
cardiomyocyte structure and function. Ideally, the candidate will have advanced practical understanding and experience of cardiac cell isolation techniques, fluorescent microscopy and electrophysiology. The project will require a good
understanding of the interaction between cellular structure, intracellular calcium regulation and cellular function. Animal husbandry experience and Home Office Training would be a distinct advantage.
---